ESCP Coordination During Construction.
The ESCP Coordinator is the person responsible for observing the erosion control components of your project and reporting back to the permit authorities as required by law.
At Owner Built Design, we provide the ESCP drawings as part of our design and drafting fee. However, because the role of ESCP Coordinator carries into construction we also offer our ESCP Coordination services as a month to month option.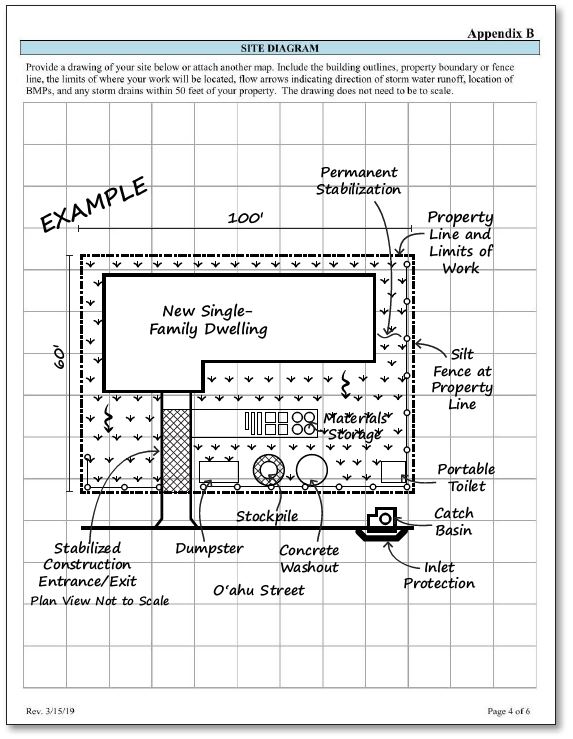 Example ESCP Site Diagram
Using your approved ESCP Documentation that was created for you and approved during the building permit processing phase, we make monthly site visits to observe the condition of your site regarding erosion and sediment control.
A monthly site visit is required to check conformity with your ESCP documents.
We also provide you with the Stormwater clearance letter that is required by the Department of Planning and Permitting during the construction close out process.
Frequently Asked Questions
How soon before construction begins should I enroll in your services?
The Department of Planning and Permitting requires you to notify your ESCP Coordinator at least two weeks prior to construction. This is when we recommend that you enroll so that we have time to schedule our initial observation visit in compliance with their rules.


Are appointments needed for you to conduct your monthly observation visits?
No, you do not need to be present for us to conduct our monthly visits.
How many months will I need to subscribe to this service?
This is a month to month enrollment with no contract so you will be billed every month until you cancel your subscription. The duration of your construction project will determine the number of months you'll need to subscribe to our ESCP Coordinator services.
Can I change my ESCP Coordinator later?
Yes, this can be done by submitting a form to DPP and cancelling your subscription with us.